Meet Priscilla Idunn Bijoux who has acvcepted to take us through a journey into her creativity.
Hello Priscilla, would you like to introduce yourself ?
Hi, my name is Priscilla. I am a French girl who went to study in Spain in 2008 and never made it back home. I do not generally consider myself an impulsive person, since I prefer to weigh the consequences of my actions, but I do like challenges, new things and specially moving out of my comfort zone. Perhaps deep inside I have an adventurous soul.
Since last November, I have a little online shop, Idunn Bijoux, which is growing by the day and represents for me a way of working with my emotions and transmitting them as far as possible to every potential buyer who visits my shop.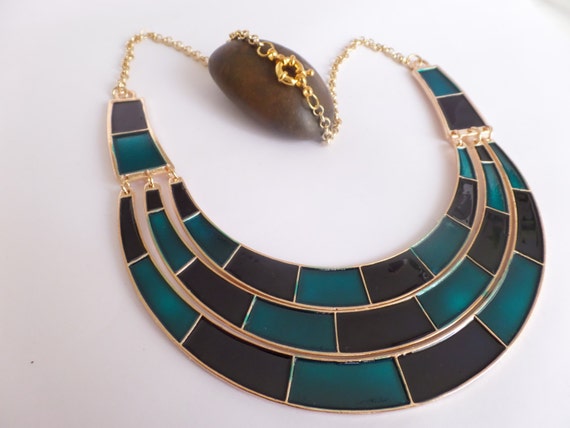 What do you create ?
I am handcrafting pieces of jewellery and my specialty is creating them by combining very small beads, Miyuki and Toho delicas. To work this material I need a long needle and nylon thread, both intended specifically for this kind of work.
How did you get started ?
I always liked creating objects, since I was a child I have handcrafted decoration elements, key rings, bracelets, and also customized others that I already had such as lamps, T-shirts… But a couple of years ago I went to a costume jewellery workshop organized in my neighbourhood to "try something different" and I learnt the beading technique. At that moment I really began creating all kinds of pieces of jewellery, also using cotton or leather cords. When I had about fifty different items, I thought that I could take advantage of my hobby and I looked for a name, a logo, an image for my brand.
What is your source of inspiration ?
As my shop's name clearly indicates my first source of inspiration was Norse mythology. More specifically my "muse" is the goddess Idunn, guardian of the golden apples which are the source of the gods' eternal youth and beauty.
Now I seek for inspiration in the latest trends and in my own mythical and mysterious world, and I try hard to give a different and unique touch to every new craft I create.
I have always felt very attracted to mythology in general, being it roman, egyptian, greek or norse. In fact I had to write a paper about this last when I was in high school. This interest for antiquity comes from my mother, whom I always remember during my childhood watching documentaries and reading books about these topics. Hence my main inspiration source for my crafts.
Moreover, in my family creative expression has always been something very patent for me, since my grandfather used to paint with watercolours and ink, and my mother, aunt and cousin are all great drawers, who unfortunately have never taken advantage of their talent. My grandmother was also a very good seamstress and thanks to her I can sew and crochet.
I think that thanks to my shop and the creative community in which I am involved, I achieved to transmit my values and this is why I give the utmost importance to every little thing that I craft, since they are an expression and a reflection of what I actually am deep inside.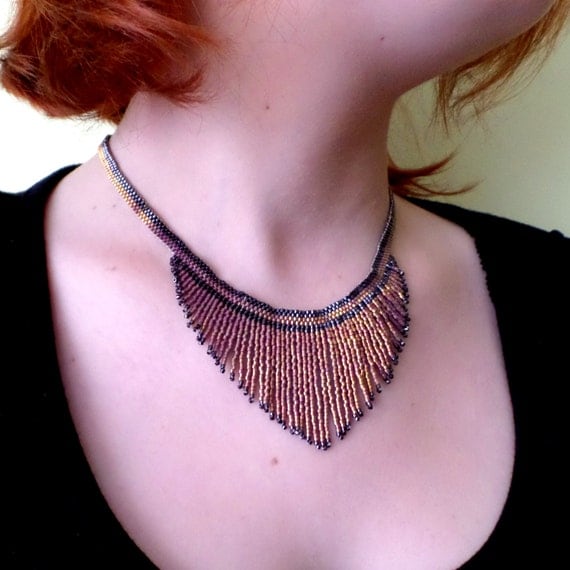 How do you promote your work ?
I think that one of the best ways to promote my handcrafted pieces is having contact with people. One should not be afraid of spending hour after hour in social networks, blog and of course also using the forums and community available in the selling platform that you use, since most sellers are also buyers.
Moreover, it is essential to value your work. Being creative is a job as any other, you spend hours working on a hand painted bowl or, as it is my case, beading with a needle, thread and tiny 1mm beads. Do not let people look at you the way they look a child doing a macaroni necklace for mother's day. We are talented and our work deserves recognition.
I do not have one favourite recipe, but I love cuisine made with love. I think my taste changes depending on the season. For example during the summer I love these original salads that you make with anything fresh and colourful that you find in the fridge. Summer is also the perfect season for ice cream. I have to admit that I do have my favourites as hazelnut or pistachio, but I also try new flavours.
Any advice for new designers ?
Based on my experience, the best advice I can give to some creative person who is starting with e-commerce is to take it easy and above all, do not underestimate the need of a marketing action plan. What I mean is that we are all human, and we only have 24 hours a day, so it is impossible to take on everything in a few days: creating, photography, new listings with descriptions, community management… so, do not rush and be patient.
By the need of a marketing action plan I mean that you really need to think over who your customer is, his/her age, what does he/she do, what does he/she read, etc… you need to make a profile to know where to find him/her and how to attract his/her interest towards your product.
The last thing to consider is that you have to be very concise and think over very well your shop policies. This will save you a great deal of bad surprises in case of loss of an order or of customer's dissatisfaction.
When not creating, what do you do ?- Apart from my creative activity, I like very much going to the movies, spending time with my friends or reading books. I also love travelling and walking around new places, and tasting local food everywhere I go. I am also a great music fan, I always need to have a radio, a cd player or an mp3 nearby, I usually listen to songs in Spotify while I am working on my pieces of jewellery.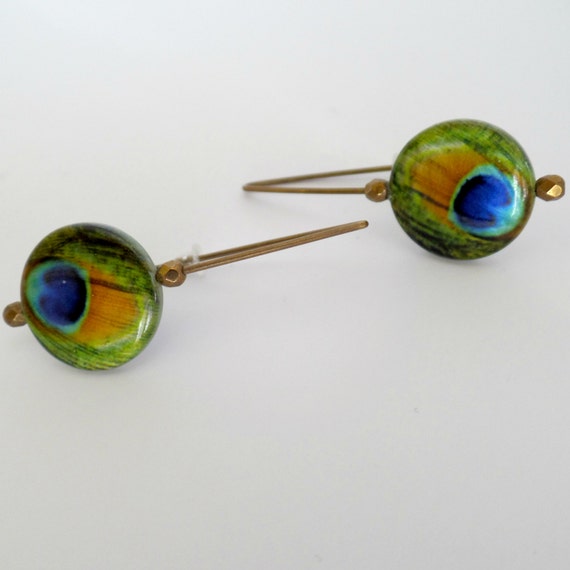 The craziest thing you have done ?
.
I think that the first thing I talked about was probably one of the craziest things I have ever done in my life. Deciding to stay and live and work in a country where I was alone, without family or a job, or any experience to know how things work here. It was quite a crazy decision, but it has been the best I made in my life, since all the things I have been through in Spain and the people I have met here have made me who I am today: a full, responsible, adventurous, creative, loving, passionate person.
Any PLaces you love ?

.
I think that if there is someplace I should recommend among the many I like, it should be the Dordogne, in France. There are so many beautiful and interesting things to visit in that region that you would need several weeks to see them all. Medieval castles, caves with paintings, canoe rides in the river, charming cities, natural parks… This is a place I loved as a teen and that I continue loving 15 years later.
Words of wisdom

.
Never think as a small shop, you need to think as a big business and plan absolutely everything. You need to think on logistics, packaging, to calculate your prices in a professional way… All these things are what make your potential customer to see that he/she can trust you, your products and your policies.
Also, as I said before, it is really important to know your target customer, to understand what he/she does or reads, to be able to attract his/her attention and to make him/her choose to buy in your shop.
Any favourite artist ?
I have to admit that I might not have any favourite designer or artist. I like discovering and watching what other creative people do, and I am always surprised by the imagination some of them show. Also if I can afford it, I love buying pieces from independent artists because I know that they have a story of their own and they have been made with so much love and effort.
13. Her favourite item are these earrings:
Priscilla says : "I love this stone and I believe they are very beautiful and original."
14. To enjoy her jewelry creations, please visit the following